How can dermal fillers improve signs of aging?
Juvderm® is an injectable gel dermal filler made of hyaluronic acid, a naturally occurring substance in the skin that can restore lost volume in the aging face. Juvéderm® is a safe, FDA approved treatment that can improve flattened facial contours, fill in moderate to severe lines and wrinkles and enhance the way the skin reflects light. A variety of Juvéderm® products are available to target specific patient concerns including the volumize cheeks and lips and soften laugh lines. Results typically last 1-2 years.
How has your face changed over time?
As we age and lose facial volume, the contour of the face changes, causing shadow patterns to develop, while youthful highlights fade. Gaining a better understanding of how your face becomes altered over time may help you and Dr. Bernard decide on the best treatment options to address your individual concerns.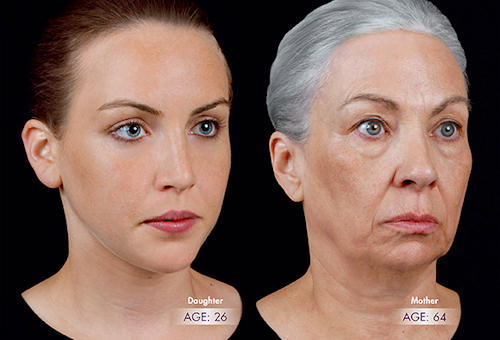 Treatment options to address the signs of aging
The goal of facial aesthetic treatment is to help temporarily restore facial volume and improve the way your face reflects light. Schedule a complementary skin rejuvenation consultation to discuss customized treatment options for your facial structure, genetics, and aging process, and learn how you can increase your satisfaction and confidence in your appearance.
As a first-time filler client, I felt completely confident and comfortable in Dr. Natasha Bernard's very skilled hands. I love how detail-oriented she is. And, as an expert, intuitive osteopath of many years (to which I can also testify with deep gratitude), her knowledge of the facial structure and anatomy inside and out allowed very precise placement with no bruising and barely any inflammation.


GG, 48