Why BOTOX®?
Years of squinting and frowning tend to leave deep wrinkles that can produce a tired, angry or sad look that detracts from a pleasant facial appearance. BOTOX® will safely and effectively improve these lines without downtime, surgery or scars, typically lasting 3-4 months.
How much BOTOX® will I need?
BOTOX® is not a one size fits all treatment. Dr. Bernard will customize the treatment to your face and your desired effect. The appropriate dosing will maximize the duration of the effects of BOTOX® while allowing expressive motion of the face and avoiding a frozen effect.
Potential Botox® Treatment Areas
This photo demonstrates the aging process by showing a daughter on the left side of the image and her mother on the right side.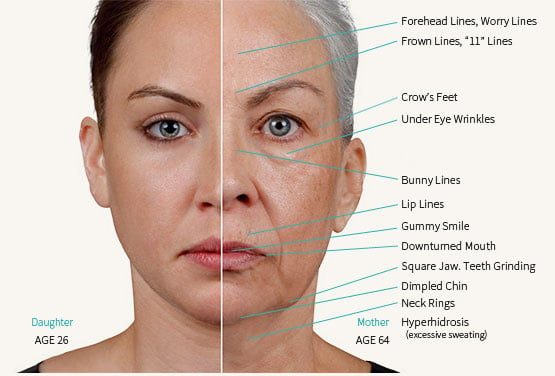 Botox® Patient Case: Busy working mom wanting to look refreshed
Kate came to see me because she had been contemplating trying Botox® for over a year but was worried about maintaining a natural appearance and didn't want her face to look frozen. She was thrilled with her results.
I have been thrilled with seeing Natasha for BOTOX® and cosmetic dermatology. I balance working full time as a healthcare provider with being a mom of three kids and have really limited time to get ready in the morning. Natasha really understands and has given me natural looking results that have allowed me to grow out my bangs for the first time in 10 years and spend less than 10 minutes on my hair and makeup before I leave for work in the morning. My only wish is that I had started seeing her years ago.



Kate, 36